Investment
China was the backbone of demand while Western institutional investors appear to be revisiting gold as shelter from financial market volatility, geopolitical instability, and a tepid US economy.
For the full year, global investment demand was up 8% yoy from 815.4t to 878.3t. This was driven by growth in bar and coin demand and dragged down by continuing outflows from ETFs. For Q4, investment demand grew 15% yoy from 169.3t to 194.6t as ETF outflows declined significantly.
Bar & Coin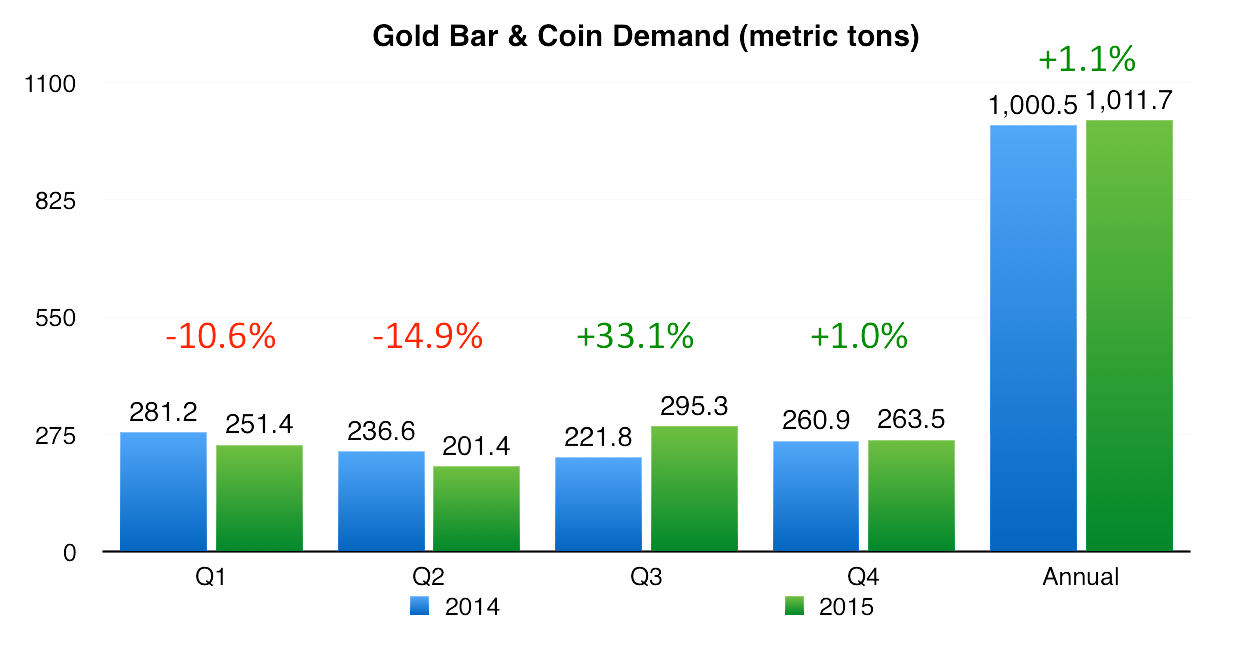 China
(Bullish)
China was formerly the largest market for bars and coins. Q4 demand jumped 25% yoy to 48t. Annual demand was 201t, which was still significantly below 2013's record demand of 406.7t. Weakening Yuan was the key driver for investment demand as China's currency fell 3.1% vs the US dollar in Q4. Equity weakness was another reason capital reallocated from equities to gold. Gold purchases also picked up in Q4 in preparation for Year of the Monkey. I previously wrote about China's adherence to capital controls in a December report on RMB. Those restrictions will drive more yuan to convert to gold as the yuan depreciates and cannot escape to other non-yuan assets.
India
(Bearish)
India exhibited weaker demand for bars and coins for the full year, declining 6% from 206.9t to 194.6t. This weakness was concentrated in the first half of 2015 as the second half saw 6% yoy growth. Q4 demand was 60.2t. India is developing its gold market with three new gold schemes that launched in November: 1) gold monetization scheme, 2) sovereign gold bond scheme, and 3) India Gold Coin. The Indian Gold Coin is the first official gold coin produced in India. It bears the image of Ashok Chakra and Mahatma Gandhi. The coin is offered in 5, 10, and 50 gram denominations. In the past year, gold refining capability has doubled from 750t to 1,500t per annum following the import of gold doré.
Europe
(Bullish)
Europe became the region of greatest demand for bars and coins as annual demand grew 12% to 219.3t, although Q4 demand fell 11% to 54.5t. Demand lost momentum as the euro's decline in the first part of the quarter paralleled gold's decline, negating any bargain pricing in local currency. Germany is Europe's source of strengthening demand as its annual demand has grown to over 100t, compared to just 15t prior to the 2008 Global Financial Crisis. France is also growing demand as gold products become more widely available at banks.
United States
(Bullish)
United States had a strong year for gold. Q4 demand was up 15% yoy to 16.5t, the strongest Q4 since 2011. Annual demand grew 53% to 73.2t. By October, the US Mint sold out its 2015 supply of 0.1 ounce and 0.25 ounce American Eagle gold coins.
Turkey
(Bearish)
Turkey saw Q4 demand fall 72% to 4.2t. Annual demand fell 50% to 23.1t, the lowest since 1999. Again, the primary reason was the declining Turkish Lira, which made gold more expensive in local prices. Rising local price of gold incentivized selling to reallocate capital to other investments.
Japan
(Bullish)
Japan had a resurgence for gold. Q4 demand was 8.9t compared to -8.2t in Q4 2014. Annual demand was 16.2t, the second strongest year on record for Japan. 2015 was the second year of positive demand since 2005.
Vietnam
(Bearish)
Vietnam saw Q4 demand fall 13% to 11.1t. Annual demand fell 12% to 47.8t. This decline contrasts strong gold jewelry demand. Demand declines were attributed to slowing inflation and rise in local gold prices. Local gold prices rose due to a shortage of physical gold bars. State Bank of Vietnam restricts the gold trade in Vietnam.
Exchange Traded Funds (ETFs)
ETF outflows continued in 2015 albeit at a lower level. Q4 2015 demand improved with outflows of 68.9t vs 91.6t in Q4 2014. 2015 full year demand was -133.4t vs -185.1t in 2014. Equity investors diverted capital from gold ETFs as US equity markets continued to improve in 2014 and 2015.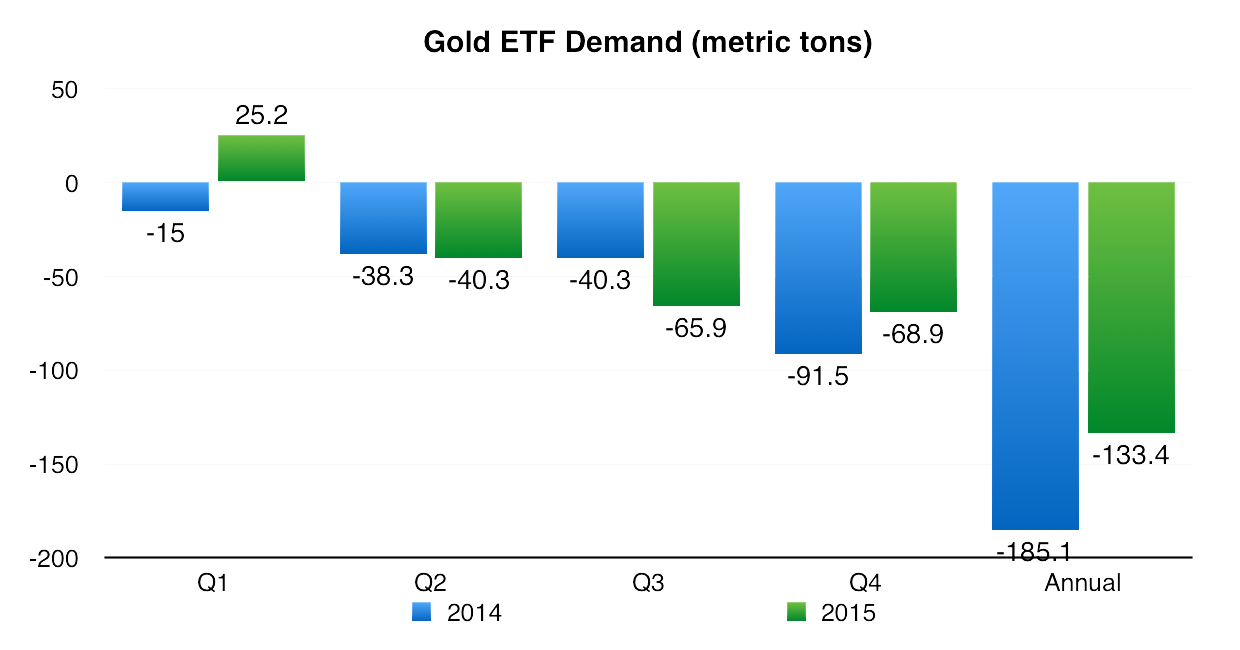 As equity markets fall and gold re-emerges in the headlines, ETFs such as SPDR Gold Trust (GLD) are becoming popular again with equity investors. An interesting observation to note is that this gold rally began with jewelry, bar, and coin buyers in Q3 2015, followed by gold futures speculators at the end of Q3 2015, and ETF buyers are only bottoming in negative sentiment now. In 2009, ETFs bought 644.6t. For 2015, there was a surplus of 46.1t in supply over demand. If the ETF market turns around, there will be a substantial force to lift gold prices.