Recent events support USDA forecast for lower production and lower stockpiles
Bullish viewpoints argue that sugar prices must rise due to a deficit in sugar for the 2015/16 year. Sao Paulo-based Itau published a report on November 10, 2015 that sugar prices need to average 14.9¢/lb in 2015/16 due to the deficit, rather than their previous forecast of 11.4¢/lb. Their logic is that a higher price is necessary to incentivize farmers to bring the market back to equilibrium. However, this realization came five months after USDA had already published its forecast.
Why did it take until September/October for the sugar market to start turning around? Perhaps investors required more information to confirm USDA's deficit prediction.
The main story fueling the bullish sugar trade is El Niño, a weather pattern that occurs every 2-7 years and lasts 9-12 months. The pattern causes stronger rain in Brazil, dryness in India, and typhoons in East Asia. Data indicates this El Niño will become the strongest on record (December-February is the peak timeframe for the phenomenon) and so the greatest potential damage has not yet happened.
In the following 20-year chart, the blue line is the El Niño Southern Oscillation Index and the white line is the price of sugar. When the blue line is below -8 (the horizontal red line), then El Niño is active. This El Niño began in March when a -11 reading was measured and currently the index is at a -20 reading.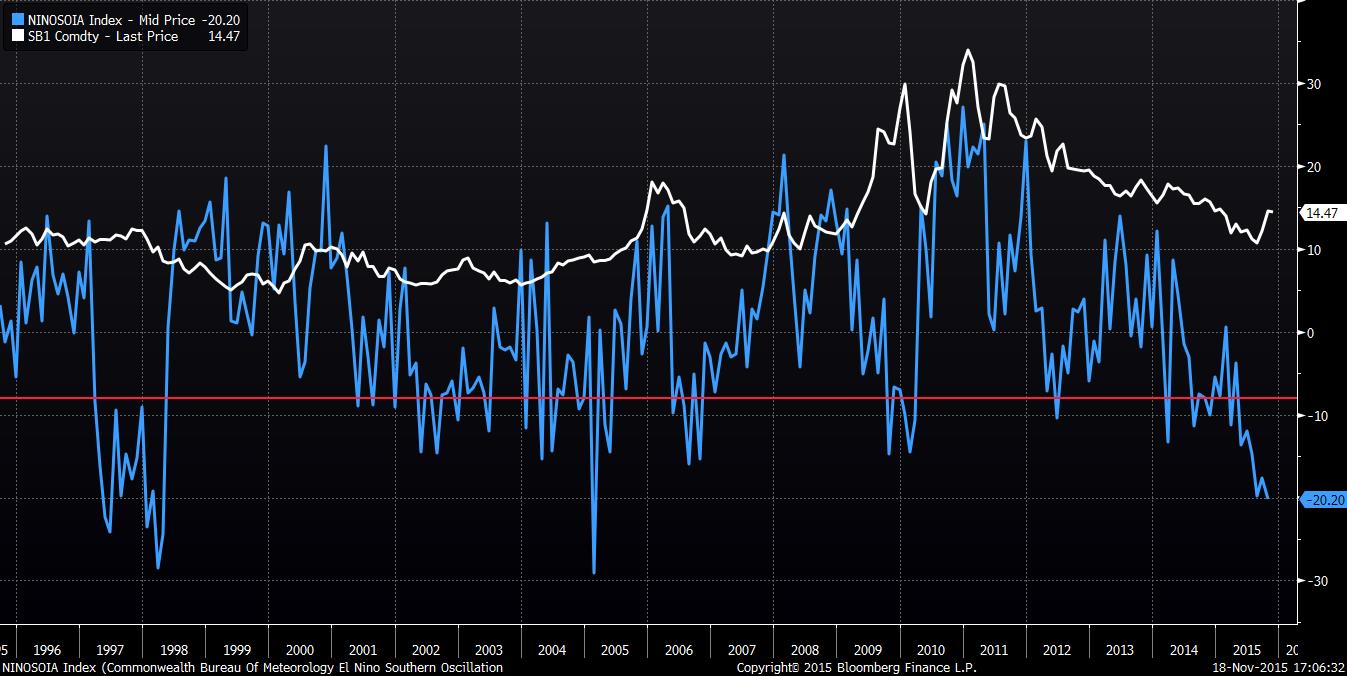 The El Niño effect in 2004/05 and 2009/10 both led to strong spikes in the price of sugar. The strongest El Niño (1997/98) was counterbalanced by the simultaneous implementation of new sugar farming technology and significant expansion in sugar acreage so El Niño effects on sugar prices were muted.
This global weather pattern story can appear abstract. Plentiful rain in Brazil could benefit Brazilian sugar production while drought in India would hurt Indian production. The El Niño chart itself does not appear entirely conclusive. The argument for El Niño risk becomes more apparent when we consider El Niño-related weather events that have pressured sugar prices recently:
October 3-4: Typhoon Mujigae hit the Chinese region of Guangxi, which produces 63% of China's 10.8 mmt of sugar.
October 9: India's agricultural ministry reported that sugar output for 2015/16 would be 26 mmt (compared to ISMA's estimated 27 mmt and USDA's 29 mmt) due to a weak monsoon season. India had produced 28.1 mmt in 2014/15.
November 5: International Sugar Organization (ISO) revised its forecast for 2015/16 to a global deficit of 3.53 mmt (from a previous 2.49 mmt estimate). They forecast that world production will fall by 2 mmt to 169.4 mmt and global consumption will rises 2.2% to 172.9 mmt.
November 17: El Niño rains forced Brazilian farmers to leave 30 mmt of sugar cane (potentially 3.6 mmt of raw sugar) in fields for next year as heavy rain hinders harvest.
November 19: USDA released its biannual sugar report, re-confirming its forecast of a deficit and lowering its forecasts for 2015/16 global stockpiles to 39.6 mmt based on the above events.
These events point to lower production and therefore lower global stockpiles, but what does this mean for prices?