Macro Overview
REITs are relatively new in Germany with the framework only introduced in 2007. Presently, tremendous real estate value is trapped on German corporate balance sheets. 73% of German companies own real estate compared to 25% in the US and 54% in UK. G-REITs as an asset class is expected to grow as German property owners free up capital trapped in real estate by selling property to tax advantaged G-REITs. Given this macro backdrop, corporate activity and property acquisition involving G-REITs should be heightened in the coming years.
Reasoning for merger
The German real estate property management sector has been undergoing consolidation and further consolidation is expected. A merger of AOX and PMOX would result in the largest German office REIT with a portfolio value of €3.4 billion, which is still relatively small compared to REITs in more mature REIT markets like the US. AOX is active in Hamburg, Stuttgart, and Rhine-Rhur (Dusseldorf & Cologne) while PMOX is active in Rhine-Ruhr, Rhine-Main (Frankfurt), and Berlin. The combined REIT would command a presence in six of the "Big 7" office markets of Germany. Management expects €17.5M of cost synergies that include reduced administrative and financing costs.
Arbitrage spread
At the close of trade on 9/23, there is a 1.89% spread between PMOX's current price and the value implied by AOX shares based on the published 0.381 conversion rate. This is approximately an 11.4% annualized return assuming PMOX shares trade as new AOX shares in two months as scheduled. There are no scheduled dividends from either company during the period prior to closing.
Timeline of transaction
June 16, 2015: AOX announced its intention to acquire PMOX.
August 21, 2015: AOX releases its offer document to acquire shares of PMOX. AOX offers 0.381 AOX shares for 1.0 PMOX shares. At least 69.6% of PMOX shares outstanding must be tendered for exchange or held directly by the bidder for the transaction to be accepted. Oaktree Capital Group controls 60.4% of PMOX voting shares and has announced its irrevocable commitment to participate in the transaction.
October 2, 2015 24:00 CET: Acceptance period ends.
End of November: AOX expects the transaction to close and new AOX shares to trade.
Low risk of regulatory obstacles
The transaction is not subject to antitrust proceedings by either the German Federal Cartel Office or the European Commission.
Oaktree Capital Group's participation is subject to review by the German Federal Cartel Office and the office issued its clearance decision on June 22, 2015.
Low risk of corporate obstacles
PMOX Executive Board and Supervisory Board are not hostile to the takeover.
Majority of PMOX shareholders are in support.
Three months have elapsed, the acceptance period is nearing an end, and no third party has announced a competing deal.
Downside risk
Both AOX and PMOX trade near book value of equity. The merger is intended to be NAV neutral. PMOX has appreciated 4.5% and AOX has depreciated 2.6% since the merger announcement (see Exhibit 1 below). If the deal collapses, downside risk may be mitigated because PMOX is comparatively a better value than AOX (see Exhibit 2 below):
PMOX is cheaper than AOX based on P/B and P/E comparison; however, AOX has a stronger balance sheet on LTV and equity ratio basis.
PMOX has greater opportunity for upside as its vacancy rate is higher; therefore, rent income can improve if leasing teams can close deals.
PMOX downside if merger fails should be mitigated as shares are already trading under NAV of real estate portfolio.
The macro market is beneficial to office G-REITs as a whole:
German office market is strong: > 1 million sq-m of vacant office absorbed in past year.
Vacancies range from 3.8% in Stuttgart to 11.8% in Frankfurt. 2015 take-up is expected to surpass 2014.
​
Exhibit 1: AOX-PMOX candle chart since merger announcement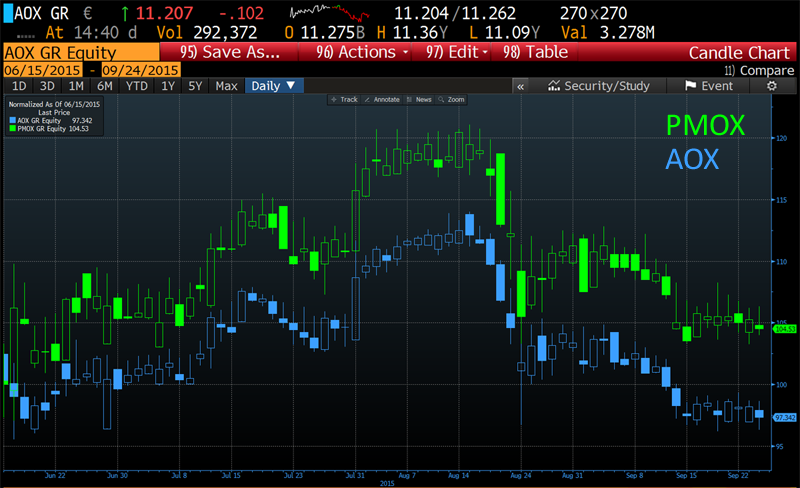 Exhibit 2: Companies Compared
| | DO Deutsche Office (PMOX) | alstria office (AOX) | Combined |
| --- | --- | --- | --- |
| Real Estate Portfolio | | | |
| Real estate property value | €1,705M | €1,692M | €3,397M |
| Number of properties | 51 | 74 | 125 |
| Lettable area (sq-m) | 866,280 | 873,000 | 1,739,280 |
| Vacancy | 15.9% | 12.4% | 14.1% |
| Corporate Financials | | | |
| Equity (Balance Sheet) | €805.5M | €922.2M | €1,727.7M |
| Market Cap | €763.6M | €985.0M | €1,748.6M |
| Price-to-Book Ratio | 0.95 | 1.07 | 0.99 |
| Long-term Debt | €929.6M | €902.7M | €1,832.3M |
| Net LTV | 54.5% | 45.6% | 50.1% |
| REIT Equity Ratio | 41.5% | 52.9% | 47.2% |
| Gross Rental Income, 2014 | €94.2M | €89.0M | €183.2M |
| Fund From Operations, 2014 | €46.6M | €47.6M | €94.2M |
| Fund From Operations, 2015 | €52.0M | €49.0M | €101.0M |
| FFO Growth, 2015 | 11.59% | 2.94% | 7.22% |
| P / FFO, 2014 | 17.09 | 21.13 | 19.13 |
| P / FFO, 2015 | 15.32 | 20.53 | 17.84 |